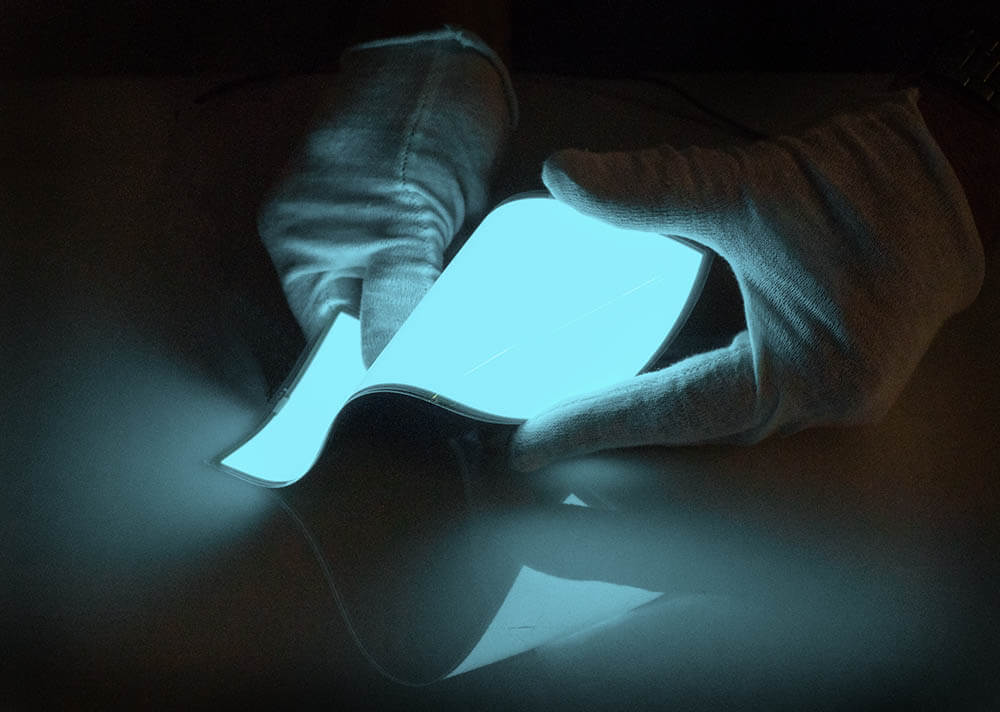 Electroluminescent (EL) sheet lighting is a light-weight form of flexible lighting.  We stock white (when on / pink when off) electroluminescent panels.  Several panel sizes are stocked, custom sizes, shapes, and colors are available.
Possible uses include signs, cove lighting (architectural lighting), floors, furniture, retail displays, lighted shelves, back-lighting electronic displays, theatrical costumes, emergency lighting, egress and pathway lighting.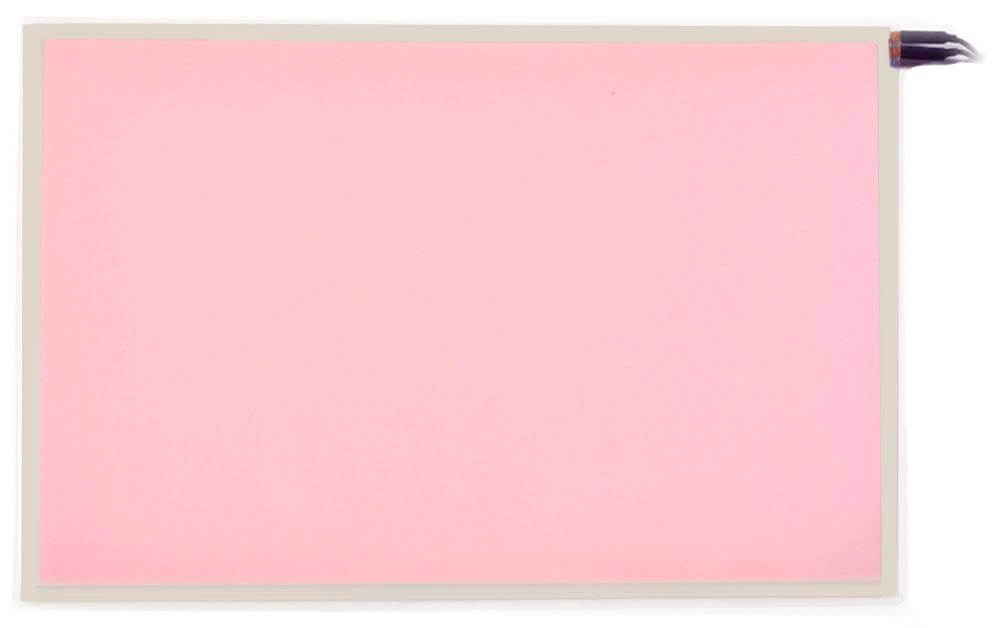 Parallel Electrode – electroluminescent panels are available in the following sheet sizes (lighted size):
Cuttable EL sheet 8.50 x 14.25-inches, white
A4  8 x 12.00-inches, white
2.40 x 3.95-inches, white
1.50 x 4.00-inches, Blue-Green
Custom size, shape and colors are available
Note: Not all sizes are stocked
Electroluminescent kits include flexible EL sheet light and EL inverter. Choose a kit with dimming or non-dimming inverter. You will also have the option to purchase an EL panel only.
DIY Electroluminescent Panel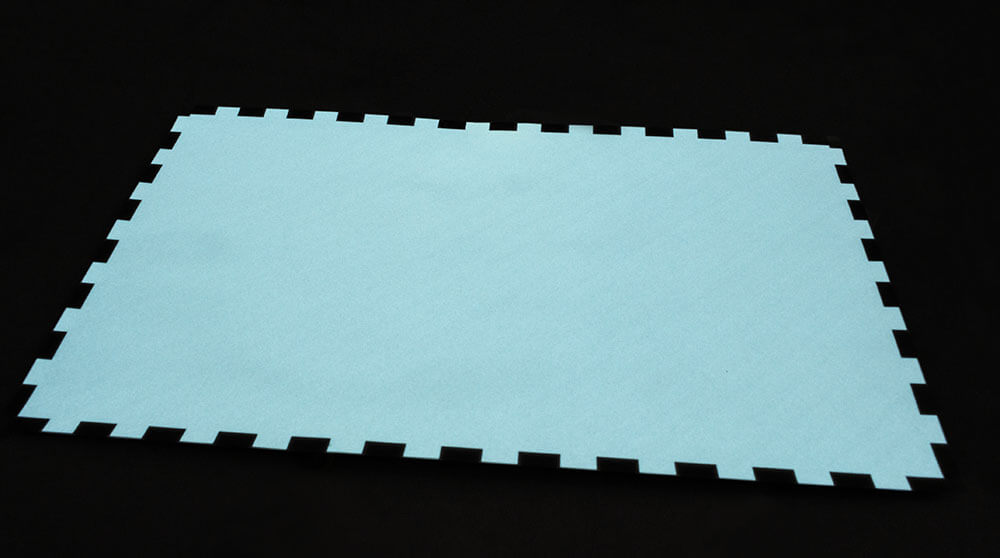 Click here for more information on DIY EL panel
Custom Electroluminescent sheet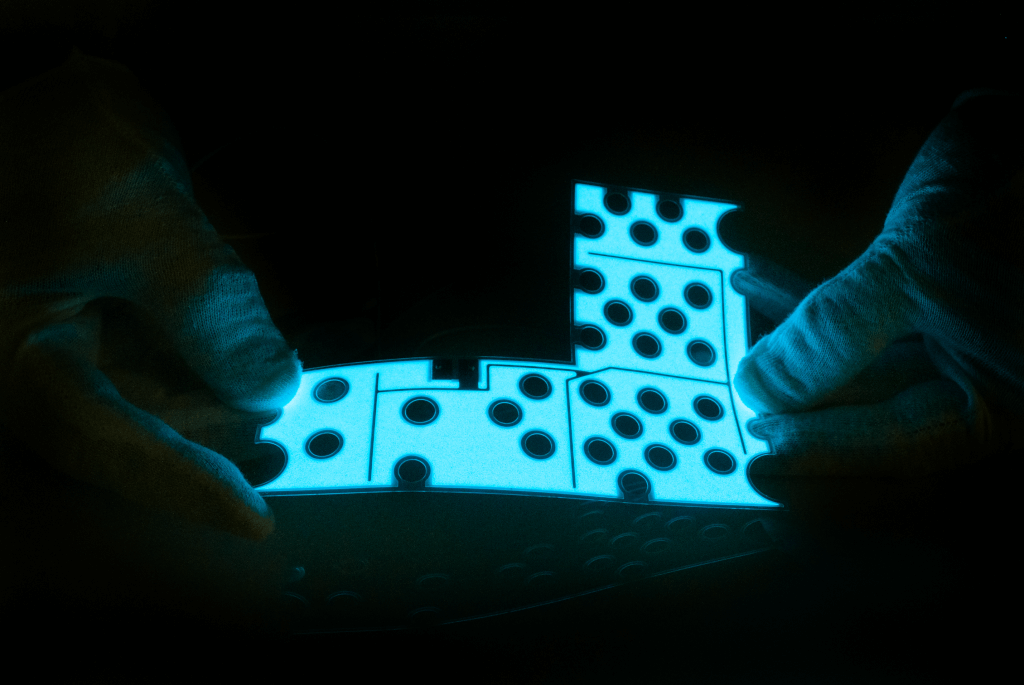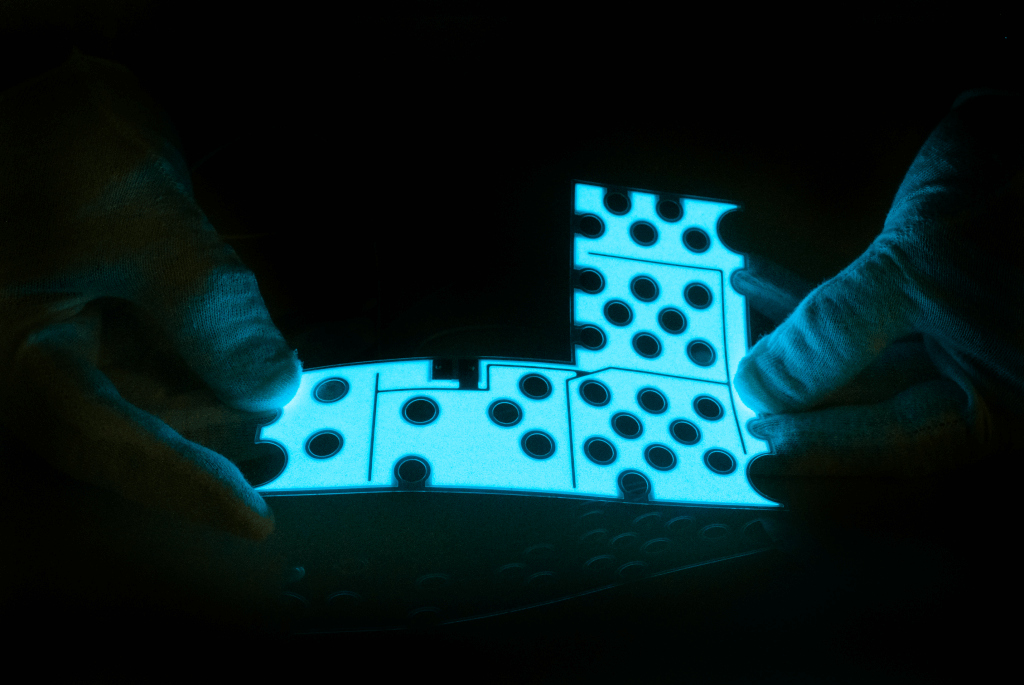 Regarding EL panel appearance:
To make a white panel, manufacturers add a pink fluorescent dye to blue-green phosphor making the panel appear pink when "off" and bluish white when "on". EL panels can have an acceptable white appearance when a graphic printed on white film is placed on the panel. However; some white areas in a graphic overlay can have a pink cast, this is caused by light reflecting off the graphics back onto the EL panel. For purest color please consider an edge-lit LED panel.
EL panels are manufactured with a process known as screen printing which gives a fairly even illuminated surface; it's not perfect though, and may not be appropriate for some optical calibration applications.
If you require colors we suggest using color gels such as those from Lee Filters.
Electroluminescent Inverters
Inverters provide the required power to drive an EL panel. Electroluminescent panels require a voltage of approximately 100 VAC at a frequency of several hundred Hertz. We have inverters for our stocked EL panels and can provide inverters for your custom panel size as well. Click here to learn more.
Have a question or need a quote?
Phone: 866.593.4712